Deer Flat supports a number of missions efforts locally and globally. We desire to come along side organizations, missionaries and individuals who are committed to helping others around the world. We provide financial support, volunteer support and/or other resources. Although our missions budget is part of our operating budget, you always have the option to give directly to missions at any time by selecting "Give" and choosing "Missions" in the drop down.
In addition to those listed below, we give a variety of one time gifts to individuals going into missions/ministry, scholarships for mission trips, special projects etc.
EDEN REFORESTATION PROJECT
FELLOWSHIP OF CHRISTIAN ATHLETES
FCA Volunteer Impact 2016 from FCA on Vimeo.
The Fellowship of Christian Athletes is touching millions of lives…one heart at a time. Since 1954, FCA has been challenging coaches and athletes on the professional, college, high school, junior high and youth levels to use the powerful platform of sport to reach every coach and every athlete with the transforming power of Jesus Christ. FCA focuses on serving local communities around the globe by engaging, equipping and empowering coaches and athletes to unite, inspire and change the world through the gospel.
We are currently providing support to:
FREE METHODIST WORLD MISSIONS
As a part of the Free Methodist Church we support a variety of missions and missionaries.
BISHOPS CRISIS RESPONSE FUND
The Free Methodist Church is marvelously connected to respond globally to the pain of crises as they appear.  We have a deeply rooted mission to bring relief to our brothers and sisters while taking the gospel to the poor.  Is the Lord preparing us for such a time as this as we extend compassionate hands in our own neighborhoods and around the world? This is an opportune time to creatively share the Gospel of Jesus Christ.
Haiti – US Based Partners
Dan and Dee Ann Snyder currently serve as associate missionaries to Haiti. While involved in a Michigan medical practice, Dan raises funds and annually makes several trips to Haiti Claire Heureuse Hospital in Dessalines. Dee Ann works in support ministries.
We also provide financial assistance to a variety of needs through the Free Methodist "Country Share" program. We have sent and/or supported a number of teams through the years including building, well drilling, dental and medical efforts.
Japan
Gene and Minori Hall are serving as Visa Voyagers in Tokyo, Japan. They have been serving on the field since August of 2019. With Evangelicals making up only 0.58 percent of the population, there is an urgent need for the gospel in Japan. Gene and Minori are serving in leadership development in Japan and Southeast Asia. Their primary role is to help equip pastors & leaders to serve well and to develop faithful leaders who will develop other faithful leaders thus multiplying leadership in the church and disciples in the marketplace.
Assistant Director – Southeast Asia/US Based Partners
Roger and Ellen Haskins have served the Free Methodist church for 40 years in various ministry roles – including Roger's eight years of service as a bishop of the FMC-USA. As they retired from pastoral ministry in the U.S., they began a new area of ministry and service. In January 2020 they joined the FMWM-Asia missionary team, serving to provide support and development for national leaders across Southeast Asia.
Associate Asia Area Director
Darin and Jill Land have ministered in Asia since 2009. Darin serves as Asia Area Associate Director, and Jill fulfills various mentoring and administrative roles. Their ministry focus is training and credentialing Free Methodist leaders across Asia through the Gethsemane Leadership Training (GLT) strategy. Darin also works closely with Asia Area Director, Eric, to develop and implement a mission strategy for the work in Asia.
International Childcare Ministries advocates for the spiritual, educational, physical and social development of children by partnering with the global Free Methodist Church through sponsorships, scholarships and creative initiatives. We assist by providing materials and communicating this opportunity.
Free Wheelchair Mission is a humanitarian, faith-based nonprofit that designs and manufactures cost-efficient, durable wheelchairs for developing countries around the world.
In collaboration with a network of like-minded partners, Free Wheelchair Mission has distributed 1.3 million wheelchairs to people living with disabilities in 94 developing countries around the world, providing renewed dignity, independence, and hope through the gift of mobility, at no cost to the recipient.
GOOD SAMARITAN MINISTRIES
Good Samaritan Ministries is pleased to offer our services in Caldwell, Idaho. We offer donation-based services for children, individuals and families in need.
Services include Christ-centered, non-denominational counseling, inner healing, trauma therapy, group support and educational resources, grants and financial assistance for children, individuals and families in need. It is our mission to support healing of the whole person and to foster a joy-filled lifestyle. All are welcome.
Hope House exists to provide a home for children between the ages of six (6) and eighteen (18) (and then those youth who turn eighteen prior to or during their senior year in High School) who are emotionally impaired, developmentally disabled, and/or come from disrupted adoptions or dysfunctional families.
Hope House serves children from all areas of the United States, although the vast majority, come from the western United States. Children from other countries may be considered on a case-by-case basis. Read more
LIFELINE PREGNANCY CENTER
MISSION AVIATION FELLOWSHIP
Samaritan's Purse is a nondenominational evangelical Christian organization providing spiritual and physical aid to hurting people around the world. Since 1970, Samaritan's Purse has helped meet needs of people who are victims of war, poverty, natural disasters, disease, and famine with the purpose of sharing God's love through His Son, Jesus Christ. The organization serves the Church worldwide to promote the Gospel of the Lord Jesus Christ.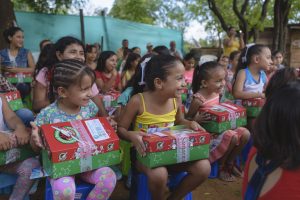 The mission of Operation Christmas Child is to provide God's love in a tangible way to children in need around the world, and together with the local church worldwide, to share the Good News of Jesus Christ.
Throughout each year we sponsor and/or provide short term support to students pursuing ministry/mission, going on short term mission trips or serving in mission arena.